In the previous page, we introduced the recommended spots in Shibuya which is the city focus on young people.
In this page, we will show the well-known place, Harajuku and Omotesando.
Tourist Attractions in Harajuku and Omotesando 1: Meiji Shrine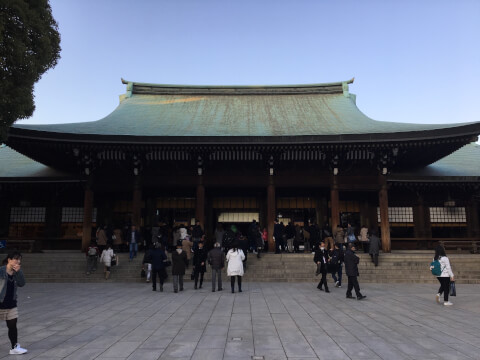 To get into Harajuku, it takes only one stop from Shibuya station. This place is one of the place where many young Japanese people visit.
However, if you go further in Harajuku, you can see a lot of nature environment that is hardly believe that you are in Tokyo.
The recommended place in Harajuku is Meiji Shrine which takes 10 minutes walk from Harajuku station.
This is shrine the most famous shrine in Japan.
In the New year and its Eve, it is always full with many people. You might see the scene on TV. This shrine is also known as "power" spot.
How to enjoy Meiji Shrine: Receive the power of the forest in the Meiji Shrine
When you come to Meiji shrine, please visit not only the shrine itself but also the forest.
The forest is located at west side of the Harajuku station, where cross the "Jingu-bashi".
By the way, torii (gate way) which you will pass by while heading to the forest, is 12.7 meters height.
When you walk through the forest, you would be surprised with the huge forest and hardly believe that you are still in Tokyo.
If you focus, you can hear the sound from small pond. It is very sensational.
The forest is known as the place where you can heal yourself with the minus ion.
I recommend this place to not only the tourists but also the salary men and women who need a good rest.
Tourist Information about Meiji Shrine
【Japanese Name】明治神宮
【English Name】Meiji Jingu
【Address】Tokyo Shibuya-ku Yoyogi Kamizonocho 1-1
【The Required Time】1 and a half hour (include visiting shrine and walking around)
【Contact】03-3379-5511
Tourist Atractions 2: Yoyogi Park
The park is beside the Meiji Jingu. The size of the park is 27 times bigger than Tokyo dorm.
The park was used for athletes village for the Tokyo Olympics in1965.
But now, nothing is remained.You can see cherry bllosom in spring, ginkgo and maple in autom.
Then, in which way we could enjoy this Yoyogi park?
How to enjoy Yoyogi Park: Enjoy four seasons in Flower Land
When you go to North from the central square, you can see the flower land next to the clock tower.
In autom, there are total over 700 roses, over 30 kinds roses!
Beside the roses, there are hydrangea, olive and azalea. You will not feel bored.
It is very wonderful to feel the seasoning change through walking and observing those flowers.
Please visit there!
Tourist Information about Yoyogi Park
【Japanese Name】代々木公園
【English Name】Yoyogi Park
【住所】Tokyo Shibuyaku Yoyogi Kamizonocho 2-1
【Access】3 minutes walk from the JR Harajuku station. 6 minutes walk from "Yoyogi Hachibanguu station" odakyu line.
【Open】5:00〜17:00(10/16〜4/30)5:00〜20:00(5/1〜10/15)
【Holiday】No
【Entrance Fees】Free
【Contact】03-3469-6081 (Yoyogi Park Serevice Center)
Tourist Attractions 3 in Harajuku and Omotesando: Takeshita Street
Takeshita Street is 350m long which locate between Harajuku station and Meiji street. Takeshita street is always crowded with many people.
On the street, there are various kind of shops and clothing stores. Cars are not able to drive through the street. it is the pedestrian precinct, which starts from 11am and ends at 6 pm everyday.
We can see not only the daily customers but also many foreign visitors and students with uniform who come Harajuku for school trip.Takeshita street is a flourished with Japanese subculture, and you will see some girls wearing lolita fashion.
There are many trendsetters and fashion leaders in Harajuku.
Kyary Pamyu Pamyu is the perfect example. She worked as model in Harajuku and now spread the "blue letter style" fashion born in Harajuku.
Blue letter style fashion is the comparatively mature fashion style named after fashion magazines whose cover titles are printed in blue. The fashion aims to attract the attention from same gender.
As comparison, there is "red letter style" fashion such as "JJ", "Ray", "CanCan" and "PINKY" whose cover titles are printed in red, and targeting to gain an attention from opposite gender.
"PINKY"'s cover title was not in red, however it is considered as red letter fashion due to the publish time and its characteristics.
The five magazines above are for women in 20s such as students and young office ladies.
How to enjoy Takeshita Street: Wait for celebrities to meet!
Sometime you get chance to meet celebrities during their TV show shooting and shopping.
You might be able too meet Ryuchel and Peko who have strong bond with Harajuku!?
Beside the recording, there are many models on "blue letter style" magazine for shooting the photos. Those who read the magazines very often, may should go to Takeshita street in Harajuku to meet them.
Also, those who are very into the fashion, photographers might speak to you and request to take your photos and insert it into the magazine. So please be fashionable when you go to Harajuku in case that situation happens.
Tourist information about Takeshita Street
【Japanese Name】竹下通り(Takeshita Dori)
【English Name】Takeshita street
【Address】〒150-0001 Tokyo shibuyaku Jinguumae 1 cho-me
【Access】in front of the JR Harajuku station
Tourist Attraction in Harajuku and Omotesando 4: Cat Street
Welfare Center along the Meiji street.
The origin of the nickname is still unknown, however, some say "it was named because the street is too narrow like the head of the cat", and some say "because there are many cats", and "because it is where the band called black cats was born".
In my opinion, the street is narrow but the width is enough for a car to go through and I have not seen cat on the street so the first and second reasons are doubtful.
There are clothing and variety of stores but it is more settle than Takeshita Street.
Street is not so crowd and is suitable place for enjoying shopping and walking.
Cat Street is sometimed called "Urahara"(back Harajuku).
It is because the streets became flourish after the Harajuku street.
The famous store in the Cat Street is "A BATHING APE" investigated by NIGO who produced the logo of famous Internet company Cyber Agent.
How to enjoy Cat Street: Shopping on good old second-hand clothing store, "BerBerJin".
There are many second-hand clothing store in Harajuku, but this "BerBerJin" is a shop of long standing over 20 years.
I would like to introduce this store becasue this is my favorite.​
When you hear second-hand shop, you might imagine old-fashioned items. However, BerBerJin has new trend items. Also, you can find goods from overseas and original skinny jeans by BerBerJin.
You might feel as if you are a treasure hunt!
BerBerJin provides cloth repairing so if you have any vintage cloth, please ask them help.
Tourist Information about BerBerjin
【Japanese Name】BerBerJin (beruberujin)
【english Name】BerBerJin
【Address】〒150-0001 Tokyo Shibuyaku Jingu-mae 3 chome 26-11 Harajuku SH Bill
【Open】12:00-20:00
【Contact】03-3401-4666
Tourist Information about Cat Street
【Japanese Name】Cat Street
【English Name】Cat street
【Address】〒150-0001 tokyo Shibuyaku Jingu mae 4~6
【Access】7 minutes walk from JRHarajuku station
Popular Tourist Attractions in Harajuku and Omotesando : Laoret Harajuku​
Laoret Harajuku is the most developed shopping mall in Harajuku.
I would say this place is popular shopping spot rather than popular tourist spot. This might be regular place to go for those who often visit Harajuku.
We recommended this place especially for those who are very into fashion.
There are section no only for females but also for males.
Even though there are so many people during an ordinary days, yet on new year season, Countless people will gather for surprise grab bag. This include foreigner.
You might get an impression that the mall is or only those who are familiar with fashion, but please do not worry. There are cafe, CD shops, book stores and variety stores in the mall.
Also, please check "Laforet museum Harajuku" in the top floor, where many events for arts, photography and music are held.
Tourist Inormation about Laforet Harajuku
【Japanese Name】ラフォーレ原宿
【English】Laforet Harajuku
【Address】Tokyo Shibuya-Ku inuumae 1-11-
【Acess】5 minutes walk rom JR Harajuku station
【Open】11 am ~ 9 pm ※no egular losed day
【Contact】03-3475-0411
Popular Tourist Attrations in Harajuku and Omotesando 6: Omotesando Hills
Omotesando Hills is the symbol of Harajuku and Omotesando area. It was opened in 2006 and it's consider relatively new.
The building is build along the zelkova trees and designed in the way that it is not tall as the tees
A lot of efforts were put to make this building in order to get used to the scenery of the town.
Desiner is Ando Tadao.
How to enjoy Omotesando Hills: No worry even if you are with kids
Kids spaces are set in the mall where they can enjoy.
There are famous brands or adults and "Forest for kids" for children o play.
Even library is in the mall. You can relax and enjoy eating in cafe.
During Christmas season, the mall will be decorated with special illumination so please visit there if you have any chance.
By the way, you can actually live in Omotesando Hills because the upeer floors are redidencial area.
It might be good to think about living there if you like not only Omotesando Hills but also Harajuku and Omotesando area.
Tourist Inormation about Omotesando Hills
【Japanse Name】表参道ヒルズ
【English】Omotesando Hills
【Address】Tokyo Shibuya-Ku Jinuumae 4-12-10
【Closest stations】Harajuku and Omotesando station
【Open】11 am ~ 9pm
【Contact】03-3497-0310
Popular Tourist Attractions in Harajuky and Omotesano : Omohara Forest
Omohara Forest is on the top of "Tokyu Plaza Omotesando Hajuku", which is on the Jinu-mae crossing.
You will find it when you walk across the road.
How to enjoy Omohara Forest: Enjoy the oasis in city
The place is opened for free and people usually use there as rest spot during their shopping.
I have an impression that foreign visitors often visit there.
Mist spouts from the forest in summer when the temperature hits above 26 celsius. In winter, there is beautiful illumination.
I can't guarantee but you can watch fireworks competition held in Jingu stadium from the forest. So please keep it in mind about this place for watching the fireworks.
We walk too much in Harajuku and Omotesando area because there are too many places for shopping.
There are not many areas to take a rest in the area so please use Omohara Forest for relaxation.
The sunset from Omohara Forest is wonderful.
It's easy to forget time when you are there with somebody precious.
Tourist Information about Omohara Forest
【Japanese Name】おもはらの森 (Omohara no mori)
【english】Omohara Forest
【Address】Tokyo Shibuya-ku jingumae 4-30-3
【Access】4 minutes walk from Harajuku station
【Contact】03-3497-0418
In this page, we introduced Harajuku and Omotesando area.
In the next page, we will present recommended spots in Shinjuku and Ikebukuro area.